Introducing our fresh hand made smash burgers to the World!



CARDIFF:
Kongs Cardiff,
Hodge House, 114-116 St Mary St, Cardiff CF10 1DY
&
The Underdog Cardiff,
Hodge House, Guildhall Pl, Cardiff CF10 1EB

BRISTOL:
Kongs Bristol,
13-15 King St, Bristol BS1 4EF


Thurs-Fri:
5pm–9.00pm
Sat:
12pm – 9.00pm

[Please check our socials for up to date times]
Tuesday-Fri:
4pm–9.00pm
Sat:
12pm – 9.00pm
[Please check our socials for up to date times]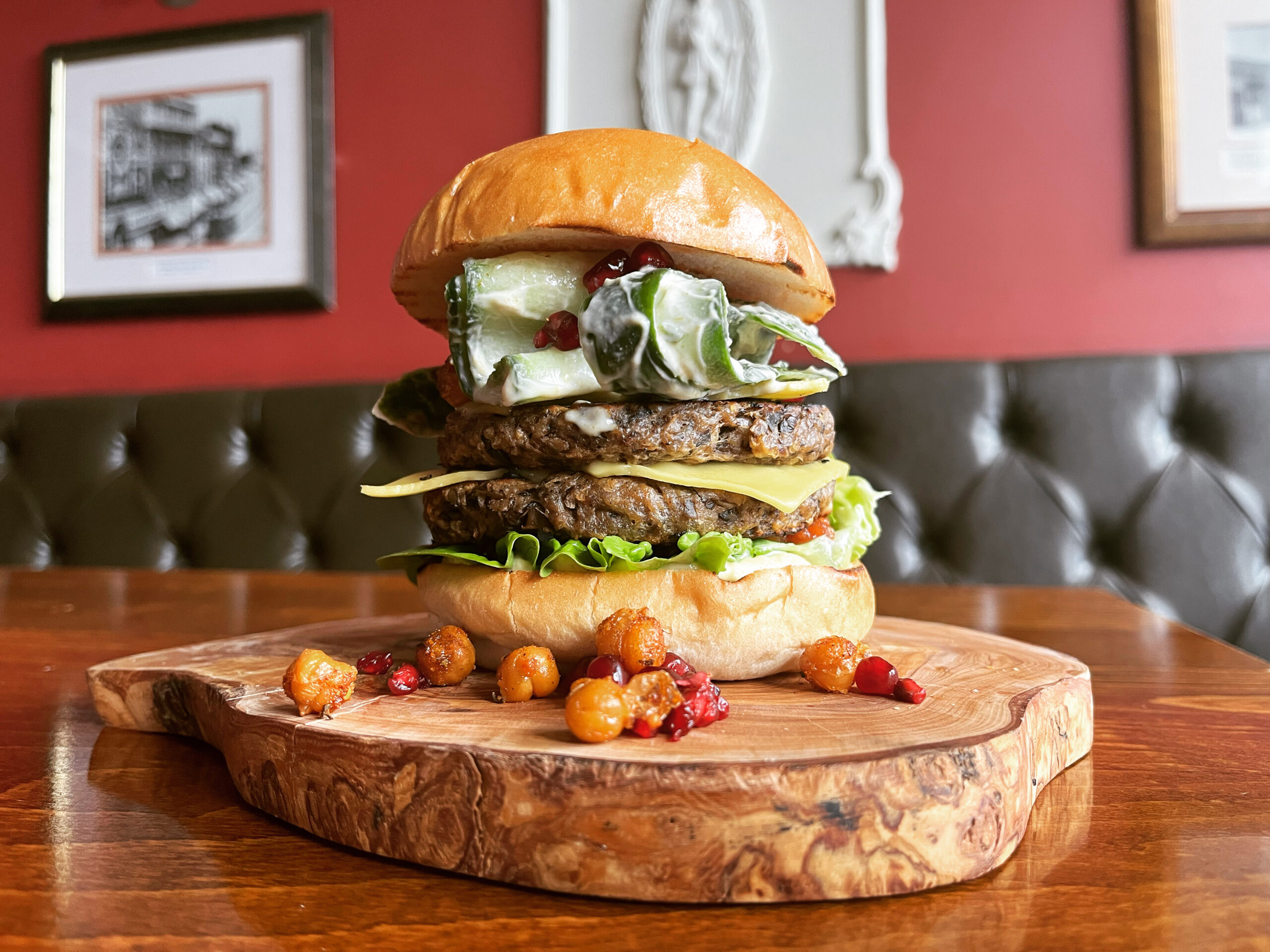 We are, at heart a popup kitchen. While setting up across Cardiff we will also travel the UK feeding our delicious hand made secret recipe burgers, from festivals in our van to a close cosy local pub near you!
We will let you know when we know where you can pick up a Hench Burger through our website and social media accounts.

Have a look at a few of our favourites below, and check out our current full menu with the button.
We do have specials on too from time to time, these can be seen through our social medias
Please note our menus are subject to changes
Double cheese, smoked streaky bacon, baby gem, red onion, tomato chutney, pickle, Bovril mayo
Our favourite and most popular burger, 2 of our hand made secret recipe smash burgers with double cheese topped with Bovril mayo all housed in a potato based bun.
Buttermilk soaked chicken, Smoked streaky bacon, Cheese, Cornichons, Onion Rings, Baby Gem with Roasted Garlic and Truffle Mayo
We're On Instagram
This error message is only visible to WordPress admins
There has been a problem with your Instagram Feed.
We could smell the fantastic aromas of charred steak throughout the town. Followed our noses to find the two chaps in the pop up blasting out burgers. Obviously went for the double and it did not disappoint. Rich Bovril mayo spread on a crispy yet fluffy brioche bun holding in the most tender patties of beef smothered in a blanket of cheese. We didn't move from the spot and didn't speak to eachother until it was gone. The odd obligatory approving nod and eye roll to the back of the head to convey our happiness was all we could muster. In all seriousness. Take napkins. More than you think you'll need... it's juicy... very juicy. Will be on the look and smell out for these guys again 10/10
James Jones
16 September 2023
So good, I wanted to cry. Best burger I've ever had.
Bethan Smith
20 August 2023
10/10 best burgers I've ever had
Scott Smith
19 August 2023
Food was amazing and affordable, we came on the Friday with the burgers and we all enjoyed it
Maisie-ann King
18 August 2023
More than a burger a burst of different flavours an experience that surpassed all expectations, thank you
tracy king
18 August 2023
Table of 14 with a variety of food requests but nothing was too much for these guys. What amazing burgers!! Can't wait to go back and try the Sunday lunch!
Lauren Curtis
17 August 2023
Went to their pop up in the Corporation Market in Cardiff. The lad who served us was friendly, knowledgable, very quick to warn us of anything they had run out of (it was late on a Sunday after a busy weekend), but also offered plenty of alternatives and substitutions. Going to go back earlier in the week to make sure I get something from the menu!
Michael Partridge
7 August 2023
Josh is a gent and a legend, and a purveyor of, to my mind, the best burgers in the UK. Smashed good and proper, crispy bits, lots to choose from, VEGAN choices too, excellent buns, great sides, you absolutely cannot go wrong. I can see Hench rapidly become an addiction. Amazing stuff.
Benedict Tomczyk-Bowen
29 July 2023
Great burgers at a decent price! I went for the Rasta Burger and the rum pickled onion banged. The chef even came over and asked us how the burger was which was a nice touch.
We are proud to present what we believe to be the finest smash burgers Wales has to offer!
Using our own secret fresh mince blend for our burgers and perfected seasoning creating a tender, juicy, meat crusted, potato bun surrounded, cheese engulfing, topping enhancing piece of ultimate joy which will fill your belly and make you happy!

Want to know where we are? or even book us to come to you?
Most important people are you, the public, making you happy makes us happy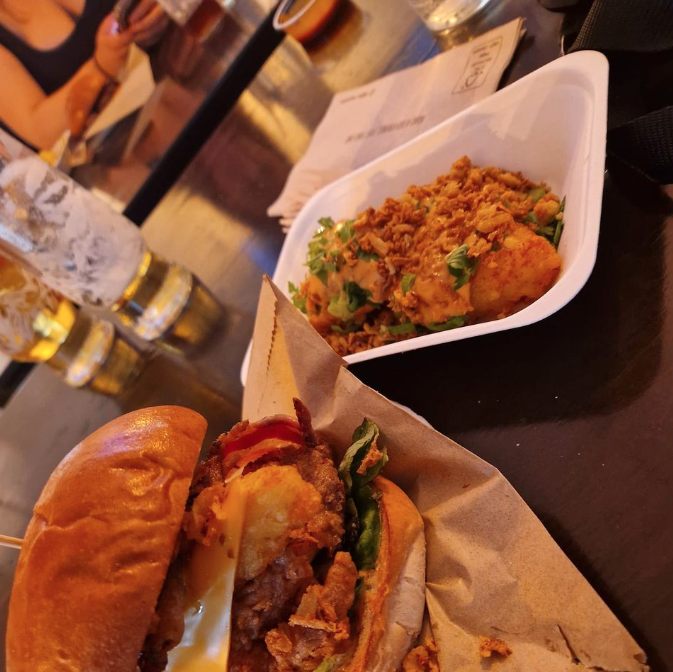 food absolutely unreal!!! burgers are the best FACT! the hash browns with bacon cheese and evrything else is mouth watering!!!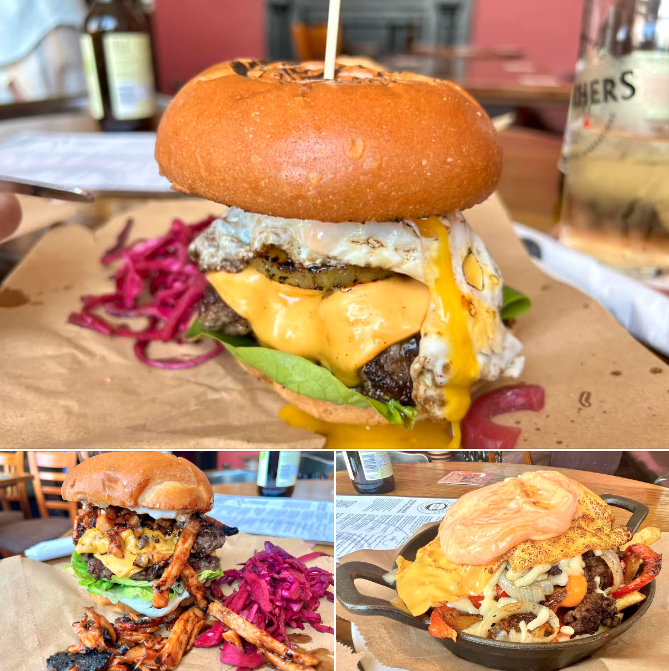 Best burgers in Cardiff! We'll definitely be back. Glad we shared the loaded fries as the portions are very big and we were stuffed! 🤣
Quite honestly one of the best burgers, if not the best I had in Cardiff. Another great example of fresh, made from scratch cooking with influential flavours which you cannot find elsewhere. Don't go to a chain, support local and be rewarded with better quality food for your money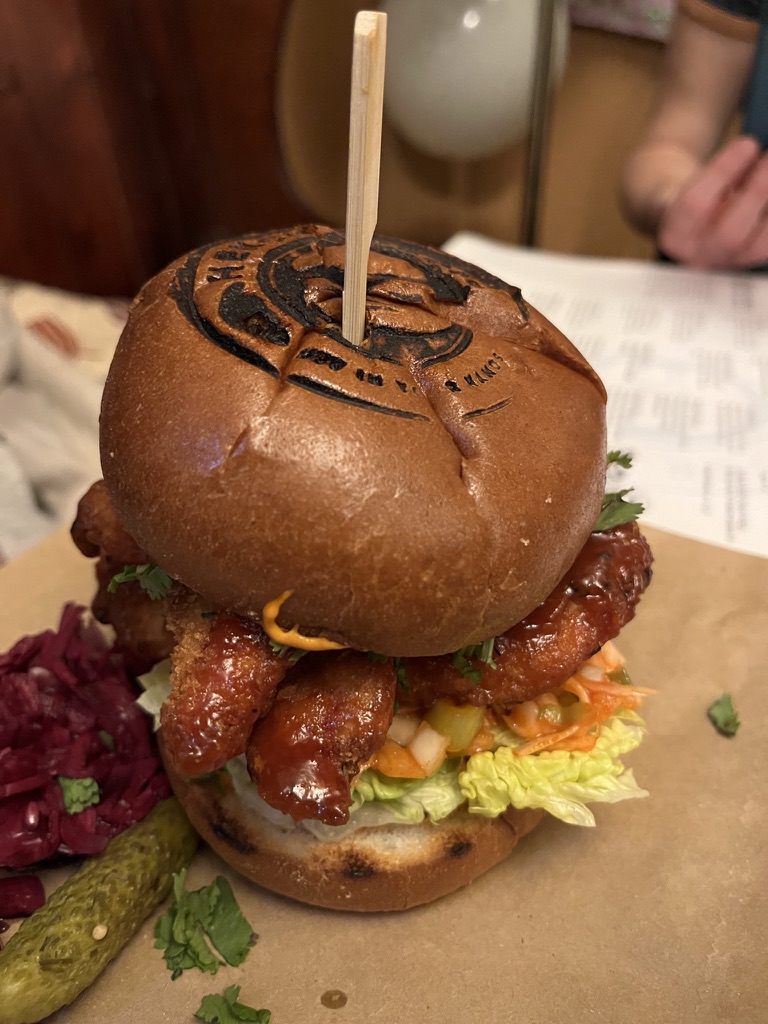 Amazing well seasoned tasty and flavoursome burgers cooked up from scratch. Lived up to the hype! Onion rings and fries were delicious as well. I look forward to working my way through the menu. I've tried others including Got Beef, Ansh, Grazing shed and Honest burgers....but by far the best burgers in Cardiff have been from Hench Burger. Excellent work team. Look forward to seeing you soon.